2022 flew by pretty fast compared to what seemed like an eternal 2020 but a lot of things happened (and continue to happen at the beginning of 2023) that may soon prove to be historic. Alongside US politics and elections, the Russia/Ukraine war, and other serious events, we had to experience a dramatic breakdown in the crypto space.
The downfall of Three Arrows Capital, the collapse in Terra's stablecoin ecosystem (does not seem so "stable" now, does it?), and the FTX disaster have all been extremely notable, and led to hundreds of billions of dollars of losses in market value for the space. The breakdown is so severe that some people say it might lead to a total collapse of the market; others say it is a natural shake off that will make the space healthier in the long run.
The losses have been ranging from 50% to almost 80% across some of the largest coins. And while the stock market took a beating in 2022 as well, the 18% loss for S&P does not feel anywhere near as bad as the losses in the crypto space.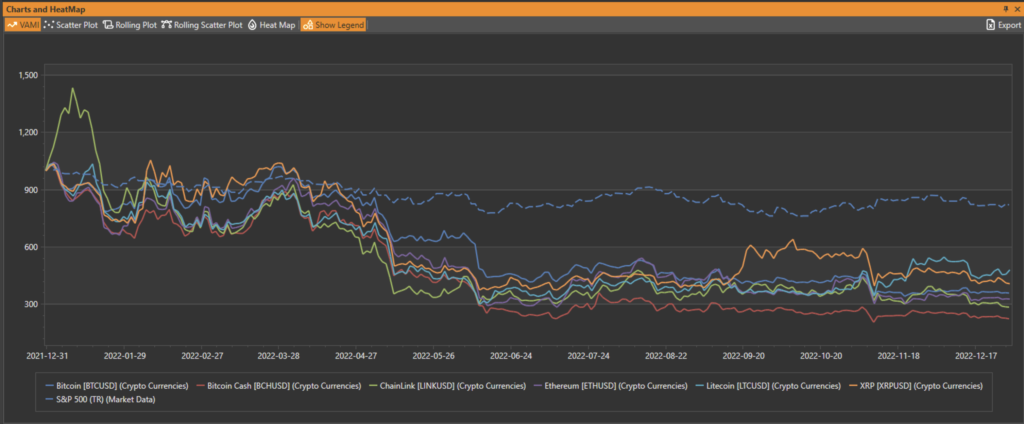 In addition to the high losses, the correlations between the coins have spiked up too, indicating that what we are seeing is structural in nature and it affects the assumptions behind the overall crypto concept, not just a particular exchange, fund, or a coin.


We will have to wait and see but for now it seems that there are more questions than answers on what exactly happened at FTX. And the cracks seem to continue growing (now this year Silvergate is starting to shake), adding fuel to the fire of debate whether crypto is just a lot of hot air, artificially pumped up, or if the space can recover and become healthier as a result of going through the rust shake off phase.
We will keep an eye out for the space and update our readers as more events take place in 2023, so stay tuned!